The Many Wonders of Wood Plank Tiles
In order to best serve the flooring needs of North Central Florida, Speedy Floor Removal wants to continue to share the best information and the latest trends in flooring. One flooring trend in particular that has recently skyrocketed in popularity is wood plank tile, which is ceramic or porcelain tile that imitates the look of real wood floors. Traditional wood flooring has long embodied a classic, sophisticated, and luxurious look, but particular qualities of hardwood flooring make it impractical or impossible for certain rooms in the home or regions in the world.
In our blog about hardwood and engineered wood flooring, Speedy Floor Removal discussed the struggle with real hardwood flooring that living in Florida produces. Hardwood flooring is difficult to maintain in Florida because of the high humidity levels of the state's climate. Hardwood flooring does not do well in moist environments, which is why it is not recommended for bathrooms and kitchens; yet in Florida, hardwood flooring is not recommended for the near-sea level ground floor at all due to the dangers of flooding and rapid mold growth.Therefore, tile flooring is a much better option for states with sea water wafting through the air like Florida, but until now, opting for tile floors meant sacrificing the timeless and stylish look of real wood.
Thankfully, the latest advancements in manufacturing technology enables the wood floor-loving homeowners of the South to obtain their dream flooring look without having to move out of state or go to floor care extremes. This fresh new approach to flooring combines the best of both the tile flooring and hardwood flooring worlds and provides an alternative that many will find more advantageous than the real thing.
Knowing how quickly Florida homeowners embrace the idea of wood plank tile once they learn of it, Speedy Floor Removal wants to share the many benefits of going with the decorating flow by installing wood plank tile floors in your home.
The Pros of Wood Plank Tile
Looks Exactly Like Real Wood
The quality of imitation from certain flooring brands that make wood plank tile can actually be quite astounding: wood plank tile can look so much like real wood to the naked eye that you have to touch it to know the difference. Highly developed technology like digital imaging and inkjet printing equips tile manufacturers to add the details that make the forgery seem more genuine, such as grain, distress, knots, shading variations, hand scraped textures, and glossy finishes. Wood plank tile can pretend to be any type of wood: cherry, acacia, walnut, reclaimed wood, driftwood, petrified wood, etc. Therefore, you can receive all of the beauty and style of classic wood floors while achieving all of the durability, versatility, and simplicity of tile floors.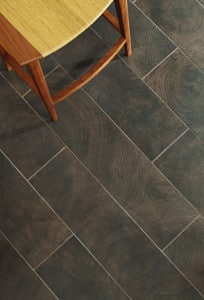 Another advancement that improves the real look of fake wood tiles is the change in sizing. Tiles are no longer limited to the conventional sizes of yesterday. Instead, they can now be made into long rectangular shapes called planks, and this innovation enables them to take on the look of wood with even more realism. With technology and manufactures working so hard to generate tile that looks like wood, homeowners need to remember to maintain the illusion by choosing the correct grout color. When installing wood plank tiles, go for a grout color that matches the tone of the wood as well as possible so as not to throw off the intended look and feel. For darker wood floors, choose a dark grout color rather than a light one, and vice versa, or your "wood" floors will just look funny.
More Durable Than Real Wood
Real wood floors are lovely and can look nice for a long time, but when certain elements such as large animals, little children, and a few pairs of high heels are added to an environment with wood floors, their presence can cause wood floors to really suffer. Therefore, tiles floors can offer superior functionality to households in which these elements are permanent features. While real hardwood floors have their merits of being soft and warm, many people feel that tile floors are more durable all around. Tiles floors are definitely not as prone to dent, scratch, warp, crack, or chip as real hardwood floors. They seem to be harder and stronger in the long run, so some people find them easier to preserve over time.
Porcelain tile is generally considered to be stronger than ceramic; as it is fired at extremely high temperatures, porcelain tile manages to be especially hard and durable. Wood plank tile is actually so enduring that it will probably last even longer than your personal style preferences: you may want to change it before it even needs to go. If tile floors do endure damage, undoing it is also a bit easier than the usual repair process for hardwood floors. A single tile or multiple tiles can be replaced without having to rip up the entire floor, and for upkeep, instead of resurfacing, refinishing, and resealing a real wood floor every few years, maintaining a tile floor simply involves putting down a new layer of sealer every three to five years to keep moisture from getting into the grout.
More Versatile Than Real Wood
In certain rooms, real wood flooring really elevates the overall level of flair and distinction of the space; however, in other rooms, hardwood flooring is not even an option. Real hardwood flooring does not do well in rooms with excessive amounts of moisture, such as the bathroom and kitchen, as water that seeps deep into the layers of wood will not dry out easily and can harbor major mold growth. Also, as captivating as wood flooring can be, glistening in the natural glow of a well-lit living room, dining room, or sunroom boasting oversized windows, ages of exposure to sunlight can cause that rich, organic beauty to fade over time. Therefore, tile flooring that emulates wood is much more versatile than actual wood because it really can go in any room and withstand unmonitored amounts of moisture or sunlight. Wood plank tiles can get really wet while serving as a backsplash, and these tiles can also get really warm when used with underfloor radiant heating.
Wood plank tile also works much better for accent walls than real wood. Another popular application of wood plank tile is extending the look from floor to ceiling, and the creation of this commanding design feature is better served by tile because when placed against the wall, wood plank tiles will not snag linens or upholstery, nor will they leave homeowners fearing the old lead paint or toxins from wood pallets. Therefore, wood plank tile is the way to go when hoping to literally take the effect of wood up a notch.
More Customizable Than Real Wood
Tile already affords a greater range of color, design, and pattern options than real wood flooring, and wood plank tiles are no different. With wood plank tiles, the signatures colors of different types of wood are much more accessible, and particular wood patterns such as herringbone and parquet are easier to achieve as well. As wood plank tiles can be made in many different sizes, the variations in plank sizes can be mixed and matched to create previously unattainable, original looks. Wood plank tiles now come in even bigger sizes — some as large as one meter by three meters — and this quality allows homeowners to bring more refined luxury into their spaces.
More Sustainable and Less Costly Overall Than Real Wood
Wood plank tile is especially eco-friendly, as millions of trees do not have to be cut down in order to put the forest outside under your feet inside. Wood plank tile floors provide the cozy and welcoming look of wood without harming a single tree. While the initial purchasing price of wood plank tiles can be comparable to that of real hardwood flooring, the cost of labor for tile is less, as the tile installation process is not as intensive as the wood flooring installation process, and maintenance costs of tile are lower than those of wood as well. Also, with the amount of realism that technology can achieve with wood plank tiles, homeowners can get the look of more expensive and exotic woods for a much more reasonable price with tile.
Better For Florida Than Real Wood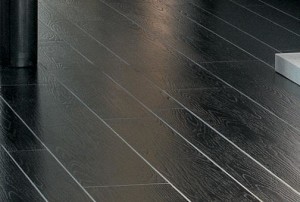 Finally, the most significant reason why Florida residents should consider choosing wood plank tiles over real wood floors is that tile simply fairs better in Florida's subtropical and tropical climates. As previously stated, wood plank tiles withstand moisture better than real wood, which means Florida homeowners can recreate the facade of real wood on the lower levels of the house without having to fear mold overwhelming the floor over time. Also, as Speedy Floor Removal revealed in our blog about tile floors, wood plank tile would keep Florida residents cooler in the summer rather than adding to the sweat-inducing heat. Whether Florida residents use these reasons alone to decide to install wood plank tile or simply add them to the list of other pros wood plank tiles have going for them, it would be unwise for Florida residents to ignore these truths completely when making a major flooring decision.
Speedy Floor Removal's Prep for Wood Plank Tiles
While all of the benefits of wood plank tiles position this novel flooring invention as strong competition to real wood flooring, there is one factor for which North Central Florida residents need to be prepared in order to make the dream of wood plank tiles a reality in their houses. In the process of installing wood plank tiles, homeowners need to ensure that their floors are perfectly flat in order to accommodate the fact that unlike real wood floors, wood plank tiles cannot be leveled out by sanding after they are placed. If the floors do not follow the maximum allowable variation of one-eighth of an inch in a space of ten feet, the insufficiently flat space will magnify the truth that the crown, or the middle section, of a wood plank tile is higher than the outside sections. If homeowners plan to offset their wood plank tiles in order to more convincingly replicate the look of real wood floors, a floor that is not perfectly flat will destroy the resemblance with gaps occurring in the offset sections.
Most floors are not quite flat enough nowadays, but Speedy Floor Removal can solve that problem with our floor flattening services. Our floor flattening services remove high spots from the slab and save time and money on bags of leveler. Our ability to flatten floors completely by leveling out every section results in better installation, as the new flooring will adhere directly to the concrete slab instead of another leveler or coating. Therefore, if you are determined to add all of these flooring pros to your home, contact Speedy Floor Removal to get your floors as flat as they need to be to showcase the wonders of wood plank tiles.