If you're renovating your bathroom or kitchen, flooring can make or break your new space. However, what many homeowners don't know is removing your current flooring and interior can be one of the most tedious tasks. Removing and disposing of your current flooring is timely, messy, and exhausting.
At Speedy Floor Removal, we eliminate all three of those concerns. Our dustless tile removal services can remove your tile and dispose of it properly. Not only do we provide tile removal services, we also remove carpet, paint, hardwood flooring, and more!
Our tile removal services are available to homes and businesses throughout the North and Central Florida, including Jacksonville, Gainesville, St. Augustine, and Lake City. To learn more about our tile removal services, give us a call or continue to read below.
About Our Tile Removal Services
Statistics show that almost one pound of dust per square foot during floor removal. This can result in several hundred pounds of dust in your home!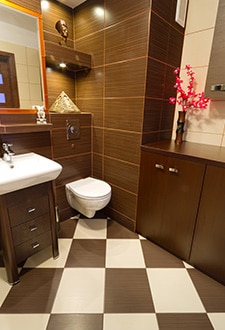 Speedy Floor Removal has the latest technology to remove the dust created from old flooring and tile. Our team uses the latest technology and machinery which collects dust rather than releasing it into the air. We also use special HEPA cleaners which help clean the air inside your home and removes dust particles.
When we visit a home or commercial property, we will:
Perform general cleaning to remove dust
Protect cabinets, furniture, walls, and flooring that are not to be removed
Cut transitions between different types of flooring
Remove the tile safely
Eliminate risks of damaging subfloor and walls
Remove 100% of glue or thin set
Prepare your home for the installation of new flooring or tile
Our team works with homeowners throughout Gainesville, Jacksonville, and everywhere in between. When you need a dust free tile removal, count on us.
Floor Removal Packages
Speedy Floor Removal has several floor removal packages to choose from to best meet our customers' needs. If you're looking for that dust free guarantee, you may be interested in our premium package—we recommend this package for all homeowners looking for easy, efficient, and dustless tile removal. To learn more about the packages we have available and to learn which one may be right for you, give Speedy Floor Removal a call or visit our packages page found here.
Contact Speedy Floor Removal
Removing your flooring doesn't have to be the hardest part of your renovation. To contact the floor removal experts at Speedy Floor Removal, fill out our online contact form or give us a call. Our team is standing by to help you with your flooring project.