As "floor" is literally our middle name, Speedy Floor Removal is all about sharing valuable incite into the different types of flooring available to Florida residents who want to make the most of the ground on which they walk. Whether you are currently building your dream home or have lived in the same house for years, there may come a time when new flooring is a necessity, and in those situations, Speedy Floor Removal wants you to be informed. Speedy Floor Removal has already posted a blog detailing every possible positive and negative quality of hardwood and engineered wood floors in Florida, and continuing with the topic of flooring options for Florida residents, we would now like to explain the various types of tile flooring and their effectiveness in local homes and businesses.
Tile flooring is a venerable flooring choice that remains practical, economical, and fashionable today, even after millennia of use. The employment of tiles on floors, walls, and ceilings has been in practice for thousands of years, but modern innovations have sustained the durability and desirability of tile flooring for contemporary homeowners. Tile flooring takes up a vast amount of space in the flooring options arena, as the diverse range of textures, shapes, colors, and materials offers limitless options that can satisfy any design style.
The definition of tile flooring and what qualifies as such is actually rather broad, but for the purpose of providing a sufficient understanding of the market without carrying on in excess, this article will define only the most popular tile flooring choices. The most popular kinds of flooring can be divided neatly into three groups: ceramic tiles, stone tiles, and alternative materials tiles. Each category of tile flooring has pros and cons to mention, and after learning all the possibilities for tile flooring, it is important to consider the general pros and cons of installing tile flooring in the state of Florida. Lastly, as Speedy Floor Removal wants Florida residents to comprehend everything that goes into the process of upgrading flooring, we will describe what removing tile flooring entails.
Types of Tile Floors
Ceramic Tiles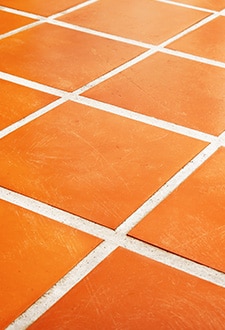 One of the original types of tile flooring ever created is ceramic tiles, which is a strong option made with natural components. Ceramic tiles come in two forms: non-porcelain ceramic and porcelain ceramic. Non-porcelain ceramic tiles are the more traditional variation made of natural white, red, or brown clay and minerals that have undergone a manufactured process of heating and cooling. The look of non-porcelain ceramic tiles are also quite customizable, as this type of tile affords a great range of sizes, shapes, textures, colors, and finishes from which to choose. Porcelain ceramic tiles also consist of a natural material that endures a manufactured transformation. To make porcelain tiles, very refined clay combined with feldspar, a type of crystal that melts into a glass-like bonding agent, is heated at very high temperatures in order to produce a particularly strong flooring product. Porcelain tiles can be used both indoors and outdoors and can fit into any decorating style with its various colors, textures, and sizes. Porcelain ceramic tiles can be made to look like stone, slate, and wood, and they can be treated so that they are stain resistant and last that much longer.
Though ceramic tiles have come a long way from their first formations, they still possess particular pros and cons. For pros, non-porcelain and porcelain ceramic tiles are extremely strong and durable, and they are stain resistant with a consistency that is easy to clean and sterilize. Damaged sections can be replaced quite simply, and these types of tiles come in a great range of colors and designs. In the category of cons, the grout section of ceramic tile flooring can be hard to keep clean, and the fact that these tiles are so hard means they are not very comfortable for living areas and not safe for delicate materials such as glass. Yet ceramic tiles can still find their place in the right kind of room or building, so do not overlook ceramic tile as a viable tile flooring option.
Stone Tiles
The options for stone tiles have been drawn from the inspiring number of minerals present in nature. Stone tiles consist of different rocks that come from all around the world and display various properties that make them perfect for enduring the unending tread of human feet. The list of stone tile types is long, but any one of these stone tile looks could be ideal for the right home or business.
Slate: Slate tiles are made from metamorphic rock harvested across the world. Slate tiles are a fine-grained flooring option that can be used indoors and outdoors with a wide range of colors available.
Quartzite: Another metamorphic rock that grounds a space in sophistication, quartzite is a multitasking tile that can fulfill both commercial and residential purposes and be featured indoors and outdoors due to its outstanding durability. Quartzite is available in an attractive array of colors and textures to amplify the elegance of any area.
Marble: Marble tiles always serve as a stunning floor selection due to limitless colorations and a multitude of refined finishes, such as polished, honed, tumbled, and brushed. Marble tiles create a classic look that can complement any decor.
Terrazzo: Terrazzo is a kind of tile made with bits of marble and other stone chips embedded in concrete, then polished to a high sheen. Terrazzo tiles are lovely, easy to maintain, and extremely durable, but they can be even too hard for some households, such as those with children and fragile objects throughout.
Granite: Granite tile flooring is a cool look that comes from a hot place, because granite is an igneous rock that forms when lava or magma cools and solidifies. Granite tile provides a great depth of tonal and visual appeal due to the small flecks on its surface that define it.
Onyx: For less trafficked areas of your home, consider the softer consistency of onyx, a stone specializing in a smooth and transparent texture that suits indoor floors and countertops in a range of earth tones.
Pebbles and Stones: Pebbles and stones is a unique type of tile that can bring nature into a home with an unparalleled level of authenticity. Pebbles and stones tiles transplant natural shapes and tones into the floor of a shower or powder room and bring with them a truly uncommon decor mood.
Limestone: Limestone is a sedimentary rock that has been reshaped for flooring purposes while still expressing an earthy appearance through light and dark shades and textured or smooth surfaces. Limestone is not as dense as granite and marble, so it is better for rooms that are less frequented and not as vulnerable to messes.
Travertine: Travertine is a limestone byproduct of hot springs from around the globe. Travertine contains minerals of different hues that are mixed while the limestone is forming, and this colorful quality gives each collection of travertine tiles a distinct pattern that adorns your home with a truly original flooring look.
As stone tiles are made of a very hard natural material, they are not without their pros and cons. On the positive side, stone tiles are just about the most durable flooring option around, and unlike materials that show stains and scuffs over time, the appearance of stone tiles actually improves with age. Stone tiles are agelessly alluring. On the negative side, not only can stone tiles be very expensive, their installation process can also be quite labor intensive. Certain stone tiles absorb dirt and stains, so they are fairly difficult to clean, and they can also be dangerously slippery when wet. Home and business owners must analyze every condition of their living space and every feature of stone tiles before selecting them, but once installed, stone tiles are sure to make a stunning, timeless statement.
Alternative Materials Tiles
Alternative material tiles have been fashioned in factory settings by undergoing chemical procedures that allow tiles made of synthetic or organic materials to replicate the look of natural substances such as wood, stone, or clay. Alternative materials tiles respond to the negative qualities of natural stone or ceramic tiles, such as their price and difficulty of installation. Some types of alternative materials tiles were first manufactured after World War II, so this flooring option has also undergone years of experimentation and improvement. One very well known type of alternative tile is vinyl tile, which is a fairly old flooring option made from plastic that has been upgraded to the point that these tiles can now mimic the look of any other type of flooring, such as wood or stone. Vinyl tile flooring saves time and money with easy installation and inexpensive costs. One popular type of vinyl flooring is vinyl composition tile (VCT), which contains the primary raw ingredient of limestone, a natural substance that serves as a filler material and characterizes VCT with industrial strength. As it is so strong, VCT is commonly used as commercial flooring because it holds up well in public spaces such as retail stores and schools. Another type of alternative materials tile is floating wood tile, which is a type of tile laminate. Floating wood tiles imitate the texture and warmth of real wood but are stain resistant and less expensive. Floating wood tiles can be installed easily when they feature a tongue and groove system that locks into place and avoids the need for adhesive. The last popular type of alternative materials tile to mention is linoleum, a type of tile whose popularity has revived in recent years. Linoleum is made of natural components such as linseed oil and cork dust, and this recipe qualifies it as sturdy, water-resistant, easy to clean, and financially economical.
The development of alternative materials tiles has solved many flooring problems but has not forged a flawless type of flooring. Therefore, home and business owners must acknowledge the pros and cons of alternative materials tiles. Some positive points about these types of tiles include the fact that certain kinds, such as vinyl and linoleum, can be laid down as individual tiles or as whole sheets of tiles that cover a floor in one continuous piece. Vinyl and linoleum are versatile in this way because they consist of material that is much more flexible than other types of tile. Many of the alternative materials tiles are much cheaper than tiles made from stone or ceramic, and they can last a long time with proper cleaning and care. Negative aspects of alternative materials tiles are that they can suffer certain cosmetic wounds that stone and ceramic are more immune to, such as gouges and tears in the tiles that are difficult to repair. Floating wood tiles tend to show scuff marks and cannot be sanded or refinished, so these tiles are more likely to expose excessive wear and tear over time. Consulting the budget and the purpose of the space for which the new flooring is intended will assist home and business owners in determining if alternative materials tiles are the best solution for their flooring needs.
Tile floors in Florida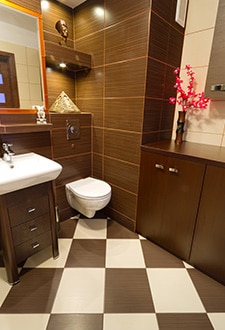 Tile flooring can work really well in Florida because it possesses several redeeming qualities for the Sunshine State, but some residents may be unable to ignore its inevitable deficiencies. Still, the positives of tile flooring are many. For one, tile flooring is a great choice for the Florida environment that sweats through high humidity levels. Tiles are tough and water-resistant, which enables them to take on the excessive moisture in the Florida atmosphere without taking it in and harboring mold or mildew. Tile flooring serves especially well in kitchens and bathrooms that generate even more contact with liquid, and tile flooring can withstand the heavy traffic of these areas effortlessly. Tile flooring also keeps the allergies and bacteria at bay when spread out to create super-hard surfaces that will not trap allergens, dust, or dirt. Homes with pets will find extra benefits in tile, as accidental messes are simple to clean on this type of flooring, and the durability of tile can accommodate animal nails. Additionally, tile floors are cool to the touch because they are good conductors of heat, which means that they remove heat from warmer substances such as feet. Tile floors feel great in the Florida heat as they help keep your body and the house cool.
The cons of tile flooring are few. Tile can be a difficult flooring material to install, requiring a skilled hand and special tools to cut and place the tile perfectly. Tile flooring also fails to heatproof and soundproof a room, but area runners and rugs can address this problem. Lastly, older tiles can be very slippery when wet if they have not been treated to have the anti-slip surface that modern tile floors have.
Tile Floor Removal
When approaching the task of removing tile floors, home and business owners should remember that not only is this daunting venture absolutely no fun at all, but it can also be extremely taxing of both time and effort. Attempting to remove tile floors without the help of a professional requires individuals to clear the area of all furniture and appliances and to disconnect any pipes or drains. Then, the grueling work of chiseling away at dozens or even hundreds of square feet of stubborn tile begins. Gloves and safety glasses are essential, and your strategy for removal must adapt to whatever surface to which the tile is connected. A chisel, a sledgehammer, a flat bar, a blade, or a saw will have to serve as your arsenal for the fight, and the battle may rage for days, as even the process of removing a small bathroom floor can take at least half a day. After you have completely cleared the tile away, then you have to remove as much of the adhesive as you can manage, but even when that chore is accomplished, one major trouble will still be looming over you: all that dust. Taking out a tile floor can literally produce pounds of dust, and you will be responsible to clean it all up some way or another. However, Speedy Floor Removal would like to make a suggestion that will not only spare you from all the cleanup, but also allow you to skip out on the demolition as well. Our recommendation: call Speedy Floor Removal to do the job. We are professional floor removers, and we have eradicated countless tile floors with our streamlined and systematic dustless floor removal process. We know exactly how to get rid of that old tile floor and save you so much time and hassle, so call Speedy today to unleash the power of dustless removal on your tile floor.