Tile flooring is an attractive flooring choice in your home because of its aesthetics along with its durability. You may wonder why your durable flooring choice suddenly shows cracks. Before you can fix the problem, you first have to understand why the cracks occurred.
Why Your Tile Floor is Cracking
Your tile floor can last over 50 years with proper care, but it is susceptible to damage from things above and below the floor. We've outlined common reasons why your tile floor is cracking.
Heavy Items Delivering Sharp Blows
Many tile cracks occur in your kitchen because of the large appliances you need to cook, clean, and for storage. Appliances like fridges and dishwashers may be heavy, but tile is engineered to withstand their weight because it is evenly distributed in the four corners.
When you are moving appliances, you run the risk of delivering a sharp blow to your tile flooring. These drops cause serious damage to your tile, resulting in cracks and even deep chips. If you are having your appliances removed or installed, be sure that a professional is handling your appliances.
Concrete Cracking Below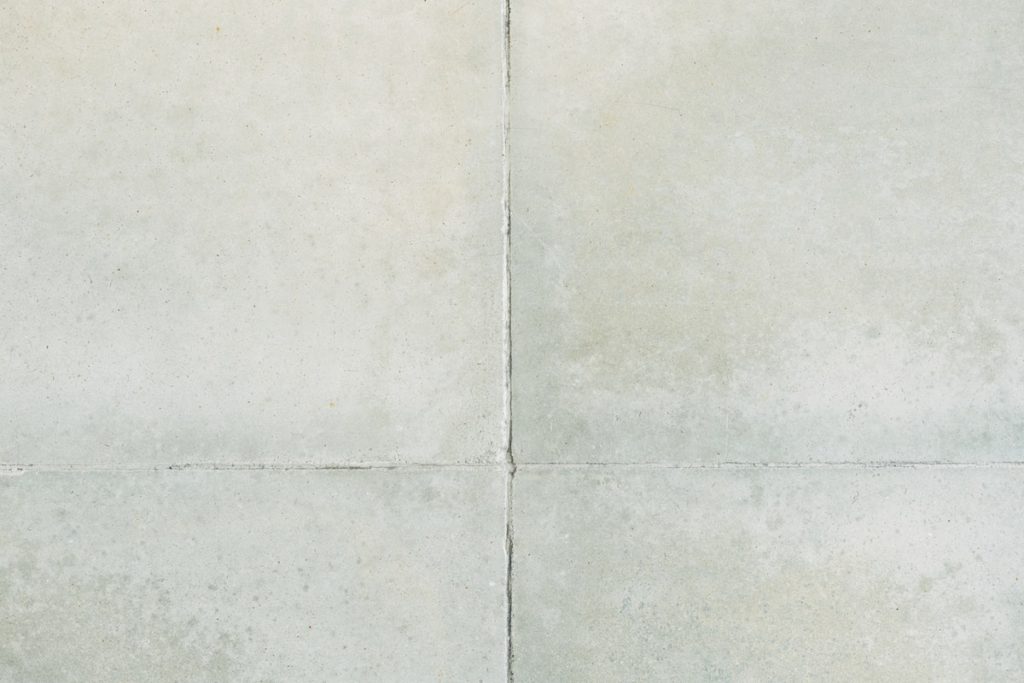 Your tile may be perfectly safe on the outside, but underneath, a greater risk could lie. Concrete will naturally settle and crack along lines called "control joints." Concrete will eventually crack as it settles, so control joints are the areas that are pre-planned to crack. If a tile is installed over these joints, cracking is inevitable. Tiles should be installed to line up with the joints, not on top of them.
The Cure Period for Concrete Was Too Short
Concrete is used to set a foundation. When it is poured, it contains a large amount of water. While this concrete "cures" or sits undisturbed, the water evaporates. While it dries out and water evaporates, the concrete will shrink. If concrete is still evaporating while tile flooring is installed, the concrete will shrink underneath, creating a gap. The tile can shift and move, increasing the risk of cracking.
Improper Installation
Tile can withstand moisture and the wear and tear your floor receives on a daily basis. However, tile can only serve you best if it is installed properly. Poor grouting, sealing, and installation can cause a variety of problems for your flooring. It won't last nearly as long as it should and you'll notice chips and cracks much sooner.
How to Fix Cracking Tile
So you have tiles that are chipped and cracked. Now what? It really depends on the number of cracked tiles and if the problem is structural or cosmetic to determine your next steps.
Only a Few Tiles Are Cracked
If you only notice a few tiles that are cracked, replacing them is a simple and easy option. It's extremely important that you purchase 10% more tiles than what is needed for your installation in case cracks arise. It makes replacement much easier in times where your tiles are discontinued or hard to find. You can simply remove the problem tiles and replace them with new ones.
A Majority of Your Tiles Are Cracked
If a lot of your tile is cracked, it's time to start from scratch. If you can't live with seeing chipped, cracked, or broken tiles in your home, you'll need to install new flooring. When it comes to floor removal, trust our experts to get the job done quickly, easily, and dust-free.
Cause of the Cracking
If cracking is merely from an accidental drop of furniture or normal wear and tear, you should be fine to replace the chipped tiles with new ones. If there are problems with the structure and installation of these tiles, you'll need to start from scratch. Putting a band-aid on a problem that lies below the surface will only lead to the same result: more cracked tiles.
Tile Floor Removal with Speedy Floor Removal
When you are ready to say goodbye to your broken and chipped tile flooring, trust the experts at Speedy Floor Removal to remove your tile. We have completed thousands of tile removal projects. We utilize state-of-the-art technology to prepare the surface underneath for new tile. Plus, we use vacuums with HEPA filters to capture and collect dust!
Contact us today in your service area to get started on your project!