Recently, we have discussed various flooring options, how to clean them, and how to remove them. All of these blogs had something in common—thinset. But, what is it, why is it used, and why does it need to be removed?
Whether you are adding onto your home, or renovating—replacing your home's floor is very common. The first step to this process is removing your current floor. Regardless of how you remove your floor, one thing is certain—thinset is underneath.
What Is Thinset?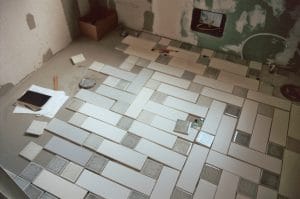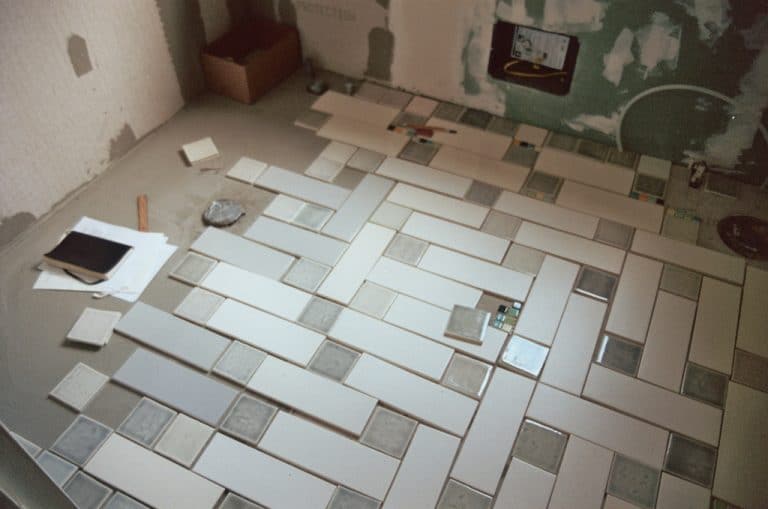 Thinset is a blend of materials that include: cement, fine sand, and a compound that allows cement to hydrate properly. Thinset acts as an adhesive for various types of floors. The idea is to add a thin layer-3/16 thick-of thinset to a bare, clean cement or concrete floor before installing tile, stone, marble and more. Most thiset adhesives are available in either gray or white. You'll want to choose a white thinset if you are going to use a light colored grout, and a gray thinset if you plan on using a dark colored grout. Keep in mind that you may pay more for a white thinset because of the color modification during the manufacturing process.
Thinset can also be referred to as a dryset mortar, drybond mortar, or more simply—mud. Be careful as some of these terms can be thrown around loosely. Make sure to check with manufacturer instructions, or get a professional's opinion before installing any adhesive to your floor.
Why Is It Used?
Many years ago, thinset products were not available. Before the development of moisture-resistant adhesives, basic elements were used. Portland cement and sand were used to make mortar for tile floors and walls. Thinset products and setting methods were developed for setting tiles. Previously, floors were installed directly over cement. Though this worked, it was labor extensive and more expensive. A thinset installation allows high quality, strength, and flexibility
Pros
Various formulations for tiles
No mold growth
Easy to apply
Unaffected by heat or water
Cons
Sold in powder bags; has to be mixed
Everything that is mixed turns hard
Hard to find right consistency
Only tiling stores offer variety of thinset options
Why Does It Need to Be removed?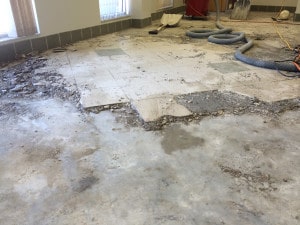 If you have decided that your home or office needs a new floor, the most important step is removing the old floor and its adhesive. Unfortunately, you can't simply reapply thinset and install your new floor. Even after doing your best to remove most of the old thinset, having any remnants of old thinset makes new floor installation nearly impossible. This procedure is not only hard work but extremely important to new floor installation.
Leaving your floor with old thinset can cause your new floor to have holes, cracks, and uneven surfaces. This can be hazardous to people, equipment, and furniture. For more information about floor preparation visit Speedy Floor Removal. Our state-of-the-art machines can remove any elements left behind from your previous floor, including:
Adhesives
Thinset
Paint
Sealer
Epoxy
And more!
How Speedy Floor Removal Can Help
Speedy Floor Removal has several floor removal packages to choose from to help best meet your needs. Since our inception, we have been focused on providing you with the best team to do the best work possible. You receive the most experienced team with the most advanced technology to date. Our customers always receive the best customer service and satisfaction over anyone else. Our services are in many locations to accommodate you!
These areas include:
Alachua
Ocala
High Springs