Recently, we have discussed various flooring options, how to clean them, and how to remove them. All of these blogs had something in common—thinset. But, what is it, why is it used, and why does it need to be removed?
Whether you are adding onto your home, or renovating—replacing your home's floor is very common. The first step to this process is removing your current floor. Regardless of how you remove your floor, one thing is certain—thinset is underneath.
What Is Thinset?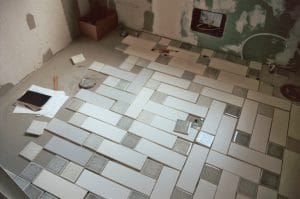 Thinset is a blend of materials that include: cement, fine sand, and a compound that allows cement to hydrate properly. Thinset acts as an adhesive for various types of floors. The idea is to add a thin layer-3/16 thick-of thinset to a bare, clean cement or concrete floor before installing tile, stone, marble and more. Most thiset adhesives are available in either gray or white. You'll want to choose a white thinset if you are going to use a light colored grout, and a gray thinset if you plan on using a dark colored grout. Keep in mind that you may pay more for a white thinset because of the color modification during the manufacturing process.